Hire an Attorney When You've Had an Accident
Dealing with an auto accident is one of the most scary things that can happen to a driver. However, you will owe it to yourself to always put your best foot forward when it comes to this particular situation. If you happen to be involved in a car accident, you will need to be sure that you either hire a lawyer or put your best foot forward to represent yourself in such a claim. Follow the points below and make sure that you act accordingly.
#1: Are you dealing with soft tissue injuries or other injuries?
The nature of your injuries will play a huge role when it comes to deciding whether you want to hire a lawyer or not. You are under no obligation to hire a personal injury attorney, but the terms of the case will typically dictate whether it is necessary or not. When you are dealing with an auto accident, you are either dealing with superficial injuries that are soft tissue, such as whiplash and bruising, or other more serious issues, such as spinal injuries or broken bones. This will be the first consideration that will help you understand whether or not the hire of a personal injury lawyer is critical to your case or not. Make sure that you keep these guidelines in mind as you set out to begin defending yourself in your case.
#2: How much money is on the line with this case?
Anytime that you are dealing with cases where incredible amounts of money on the line, you owe it to yourself to reach out to a licensed and insured personal injury attorney. The reason for this is that they are equipped to make sure that you get the best case scenario out of this situation. In most cases, even without an attorney, your case will be settled outside of court. As a matter of fact, studies indicate that upwards of 96% of personal injury cases never make it to court for this reason. But if you want to make sure that you get the settlement or any other kind of payout that you deserve in this regard, sometimes hiring a licensed and seasoned attorney is exactly what you need to be sure that you are treated fairly either in court or during out-of-court negotiations.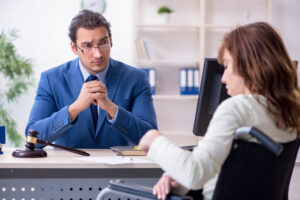 #3: Is Liability An Issue?
Liability is the first order of business with personal injury cases. However, if liability is obvious, you may not even need to get in touch with an attorney. This may be more of a matter of touching base with your insurance company, to be certain that you are being treated fairly and that you get the payout that you deserve for your injuries and vehicle damage. Make sure that this is clear prior to moving forward with the case.
Keep these three instances in mind so that you know exactly what to do when you are dealing with an auto accident. It will help you with your decision-making process as you move forward.
If you are facing a car accident case, we can help! Call Donn W. Prokpius at (702) 474-0500 for a free consultation.
For more information on how https://dwp-law.com/ can help you with hiring an attorney when you've had an accident, please contact us at (702) 474-0500, or visit us here:
Donn W. Prokopius, Chtd.
3407 W Charleston Blvd Las Vegas, NV 89102