Mistakes to Avoid When Negotiating a Car Accident Settlement in Las Vegas
Mistakes to Avoid When Negotiating a Car Accident Settlement
It is always critically important that you put your best foot forward when dealing with a car accident case. This is important because a lot of money is on the line that can affect your ability to get your car back in its necessary condition, while also fixing your physical condition. It is also important that you make sure that you are ready to settle your case so that you can have recourse in case that your situation does not go to court. More than 90 percent of these claims go settled as opposed to finishing in court, so make sure that you consider the information below in order to make the most out of your accident settlements.
#1: Never Admit Any Fault, Whatsoever
The worst thing that you can do when dealing with these sorts of cases is admitted fault. Even if you do not flat-out admit that you caused the accident, a lot of statements can be taken out of context and used against you, completely ruining your case. For example, uttering a simple apology after an accident can render your entire case useless. Even though you feel that you are doing the right thing, you might legally be admitting that you caused the accident, hence the apology. Never mention anything about defective equipment with your vehicle or any other circumstances that may be construed to mean that you caused it. By the same token, take note of everything that the other party says during the course of your interaction so that you can make notes if they happen to admit fault.
#2: Never Downplay Your Injuries, Or The Situation As A Whole
Another thing you should never do is attempt to downplay your injuries in order to be nice or polite. This can be hugely detrimental to your case, as the other party might be able to play it as if you are exaggerating your injuries. Keep your mouth shut as much as possible, and make sure that you back your situation by touching base with a medical professional as quickly as possible. Doing this will allow you to get fresh doctor diagnoses of your injuries which can be ironclad when proving your settlement.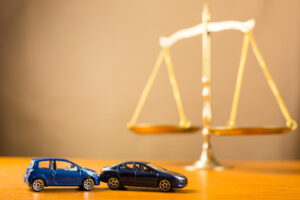 #3: Hire A Professional To Help You With Settlement Negotiations
Finally, realize that you will be up against seasoned professionals when it comes to dealing with settlement negotiations. For this reason, if you have any inkling that you are not prepared to handle it on your own, be sure that you hire licensed and insured professionals who can help you out. The people that will be dealing with the settlement are properly trained to trip you up with statements, so by having a lawyer or another third-party negotiator on your team, they will be able to speak for you and keep you from potentially ruining your case by accident.
Keep these three tips in mind and use them so that you are best able to put your best foot forward when proving the other party's liability.
Contact Donn W. Prokopius, Chtd. at (702) 474-0500 for a free consultation, and hire a Las Vegas Car Accident Lawyer.
Click if you want to learn about the Steps You Can Take To Strengthen Your Claim After An Accident and hire an Accident Attorney in Las Vegas.
For more information on how https://dwp-law.com/ can help you with Negotiating a Car Accident Settlement, please contact us at  (702) 474-0500, or visit us here:
Donn W. Prokopius, Chtd.
3407 W Charleston Blvd Las Vegas, NV 89102