Taking Photos to Strengthen Your Case After a Car Accident in Nevada
Taking Photos to Strengthen Your Case After a Car Accident
When you want to be sure that you are able to get the most out of an accident that you are involved it, just know that the case begins as soon as it occurs. This means that you will need to be vigilant about capturing evidence to the best of your ability. In doing this, you will provide your attorney with the necessary firepower to fight your case, whether you end up getting a judgment or setting your issue out of court. Take advantage of some of the points below in order to make the most of this situation.
#1: Get A Quality Digital Camera, Keep It In Your Car And Keep It Charged
The most important tool that you have at your disposal when fighting a car accident case is a digital camera. While every cell phone produced in this day and age comes equipped with a digital camera, you owe it to yourself to have the highest quality by keeping a camera at your disposal. Make sure that you have the timestamp feature authorized and that you always keep the camera charged. The last thing you want is to have your digital camera be dead when you need it the most. For best results, keep this camera in your dashboard or the armrest of your vehicle.
#2: Be Sure That Your Photos Tell A Story
You need to take a variety of different photos when it comes to proving your accident. First and foremost, make sure that you get wide, general shots to set the scene of the accident. Be sure to include things like traffic lights, traffic signs at intersections, mile markers and other indicators that set the scene. Your next photographs should be detailed in order to create a story that explains how the accident occurred to the best of your ability. This is critically important since it will be your word versus theirs and high-quality accident photos will expressly show who was at fault and who should be required to prove liability.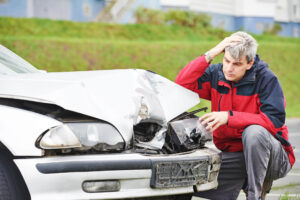 #3: Get The Ball Rolling As Quickly As You Can, So That You Are Able To Get The Details When They Are Freshed
Finally, you should make sure that you get the ball rolling as quickly as it can when it comes to taking photos. Police officers are very quick to clear the scene of an accident for the sake of drivers navigating the roadways. So you need to get out of your car and quickly begin extracting evidence whenever possible. This will also let you get the ball rolling when it comes to hiring an attorney. It is critical to hire the right attorney as quickly as you can because each and every state has a statute of limitations when dealing with personal injury and vehicle accidents. Make sure that you get these photographs off to your attorney quickly so that you are always within your state's statute of limitations.
Hire an Attorney for Car Accident in Las Vegas at Donn. W. Prokopius, Chtd. and get a free consultation. We can be reached at (702) 474-0500.
Click if you want to learn about  Mistakes to Avoid When Negotiating a Car Accident Settlement and hire a Car Accident Attorney in Las Vegas.
For more information on how https://dwp-law.com/ can help you with Taking Photos to Strengthen Your Case After a Car Accident, please contact us at (702) 474-0500, or visit us here:
Donn W. Prokopius, Chtd.
3407 W Charleston Blvd Las Vegas, NV 89102